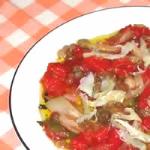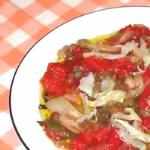 Ingredients:
Tomato


Eggplant




Pepper



Onion

Olive oil

Cod


Garlic




Salt
Preparation
Bake the vegetables in the oven. Once roasted, the skin is removed from all of them and chopped to taste (small pieces or strips).

They are all put together in a fountain and the sliced cod is added.

Then sprinkle everything generously with olive oil and garlic cut into thin sheets.


Check the salt point.